This post for an Elegant and Fun Game Day Celebration is sponsored by my good friends at Cost Plus World Market but all my opinions are my own.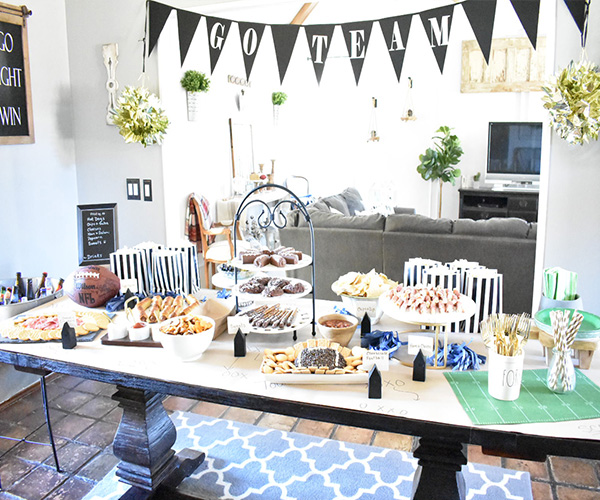 I am so excited to be partnering with Cost Plus World Market for this fun game day set up. I have a family of football fanatics. My husband is a Varsity Football Coach and my two sons are obsessed with all things football. So, when Cost Plus World Market wanted to work together on this, I knew it was a match made in heaven.
With the Super Bowl coming up soon, I wanted to give you a quick and fun set up for all the football fans in your family. We also love to host friends for football watching parties so we will have plenty of game day food for everyone.
*This post contains affiliate links.
I wanted my set up to be fun but classy. I used some lovely entertaining pieces from Cost Plus World Market to create this look. I love their gold and marble line of serve ware. It screams elegant. I placed the variety ham and cheese roll ups on the Marble and Gold Handled Tray . I actually refrigerated the tray beforehand so the marble was nice and cool and would keep the ham and cheese chilled. Nothing like thinking outside the box!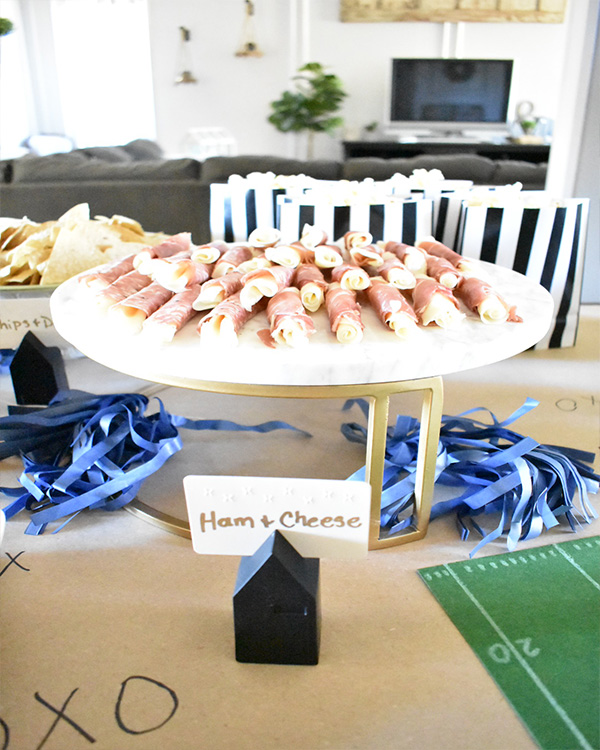 To display the different cheeses and crackers, I used the Slate Cheese Board . I love how you can write on it to display the different flavors. It even comes with the slate chalk to write with. I love offering a few options of cheeses to add a little variety. I used Cost Plus World Market's Columbus Charcuterie Sampler of salamis as well. And to make it in the football shape, I added Carr's Crackers from Cost Plus World Market.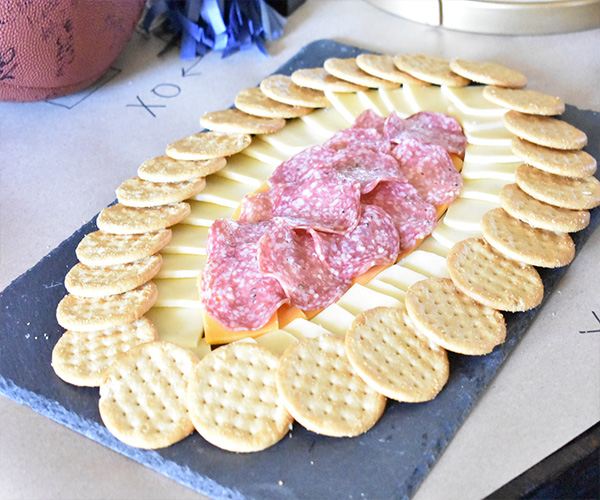 For a more filling option, I added pretzel-wrapped hot dogs. They were delicious and I learned the secret to making the dough pretzel-like. You wrap the hot dogs in pizza crust dough that you slice into long pieces. I used a Pizza Cutter from Cost Plus World Market to make the strips. Then, you boil 3 quarts of water and 1/4 C. of baking soda. You dip the wrapped dogs in the boiling solution for about 30 seconds and viola! Then you bake them in the oven on 450 for about 10 minutes or so. They are so yummy! I placed the pretzel dogs on my Gold and Marble Tray from Cost Plus World Market.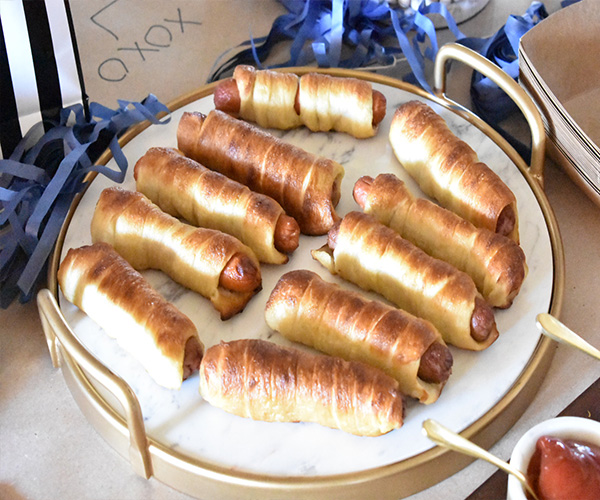 I used another one of my favorite items from Cost Plus World Market to put the condiments in for the hot dogs. This Marble and Wood tray is perfect! I also refrigerated the marble bowls to keep the condiments cold.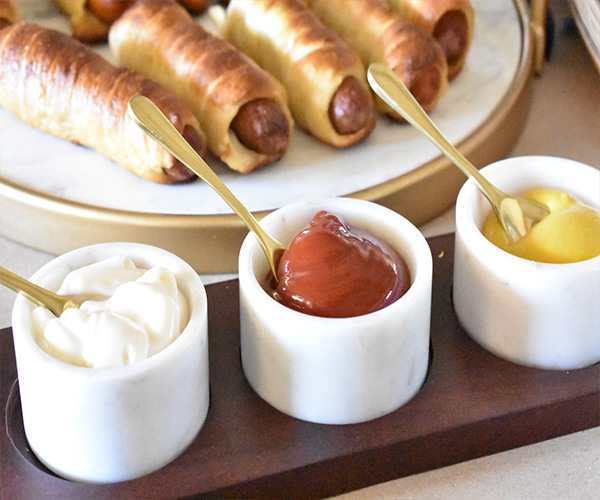 For dessert, I decided to stick with a football theme. I made double chocolate chip cookies, chocolate-dipped UTZ pretzels from Cost Plus World Market, and store-bought swiss rolls. I made them all look like actual footballs by using white icing to make laces.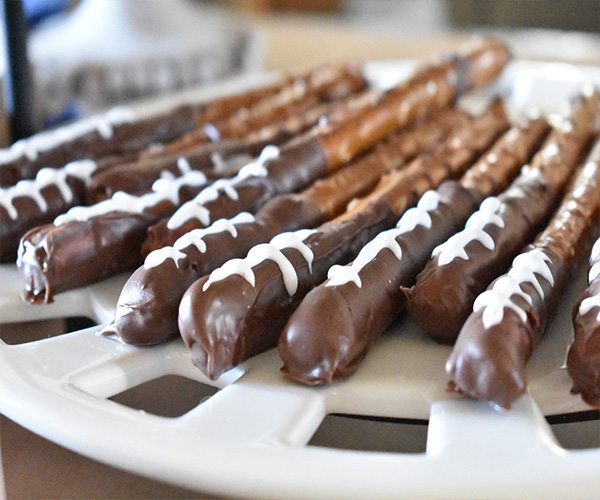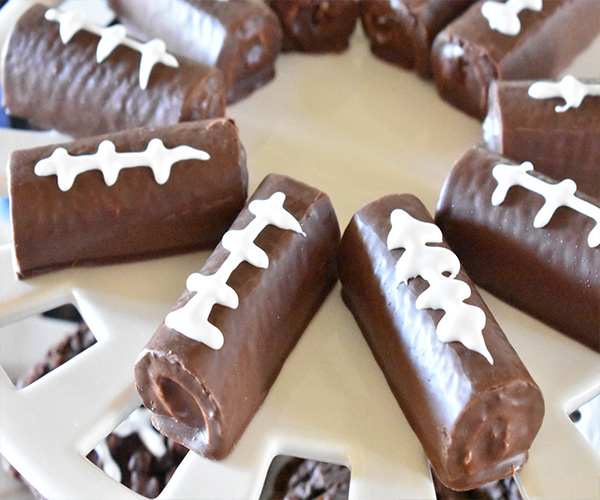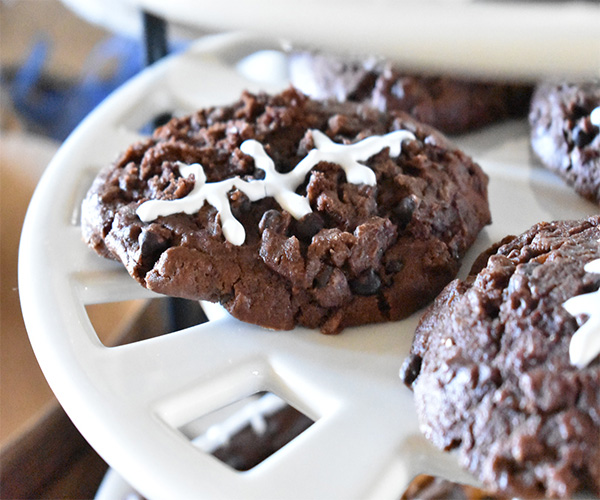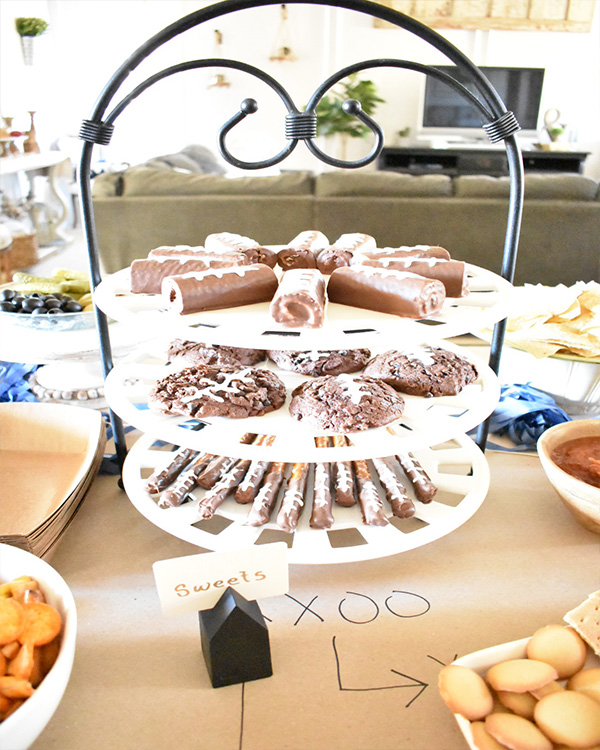 I thought it would be fun to do a cheesecake dip so, I shaped it into a football as well. I used Ghirardelli Mini Chips from Cost Plus World Market to cover the cream cheese mixture. I used regular sized white chocolate chips to make the laces. I served it with vanilla wafers and graham crackers.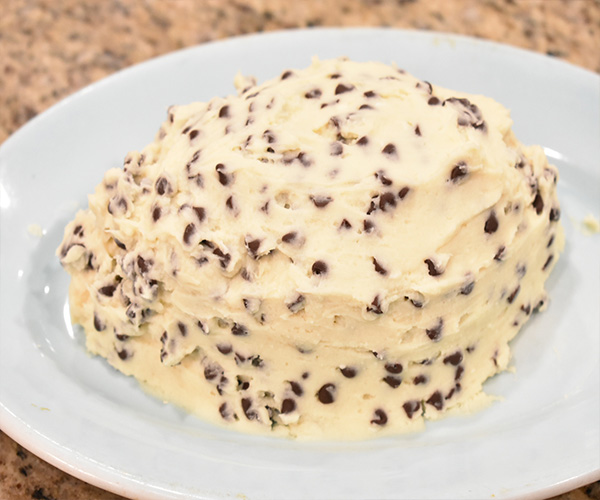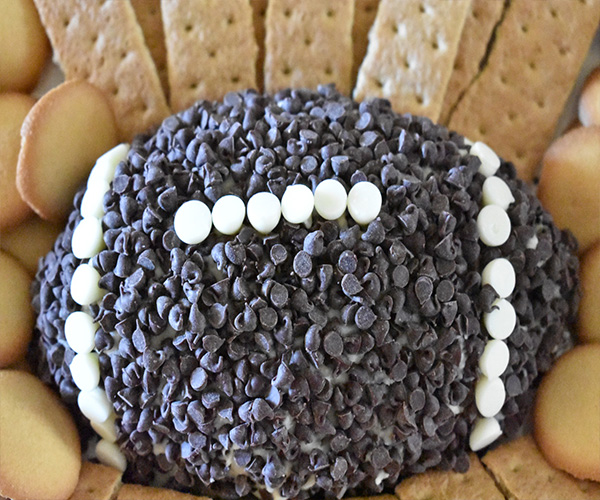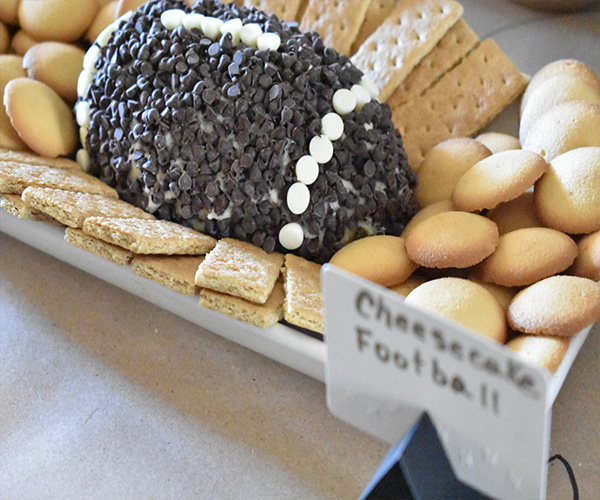 I needed a few more salty things so, I made a relish tray using Mozzetta Olives from Cost Plus World Market, black olives and Crunchy Gherkins pickles. And of course, no party is complete without Chips and Black Bean and Corn Salsa . I also used UTZ Pub Mix to add some flavor to the table.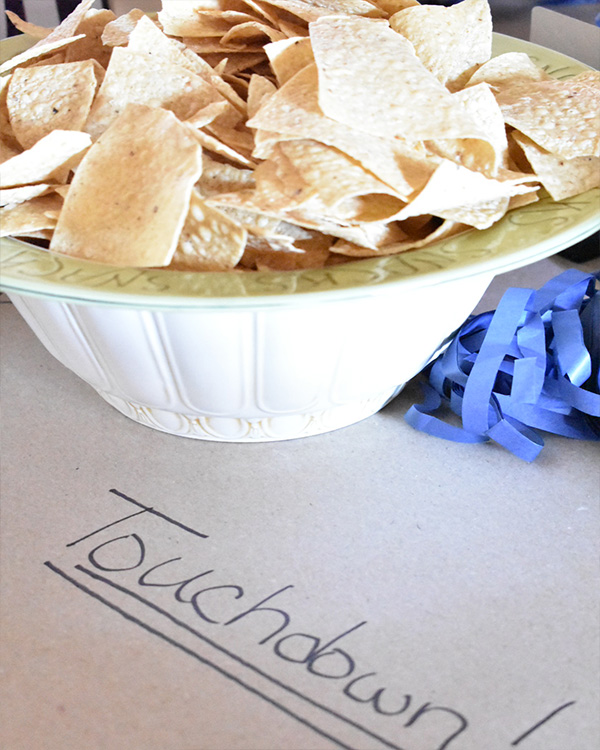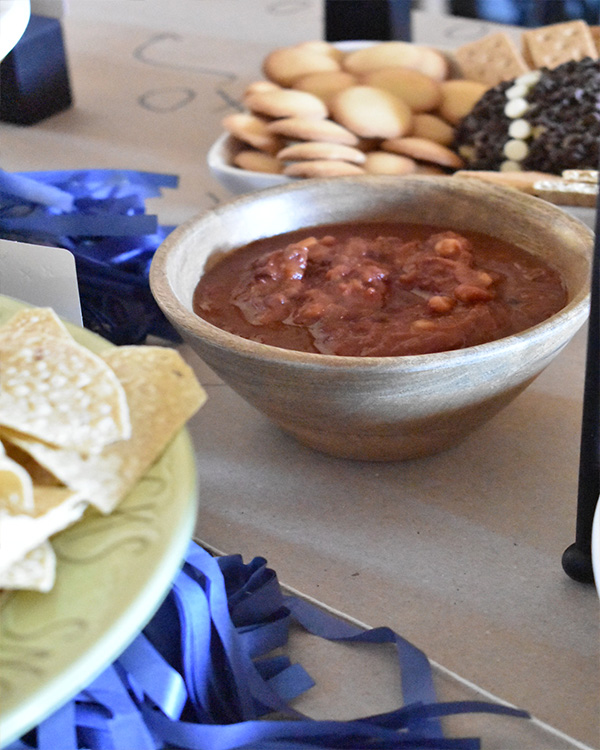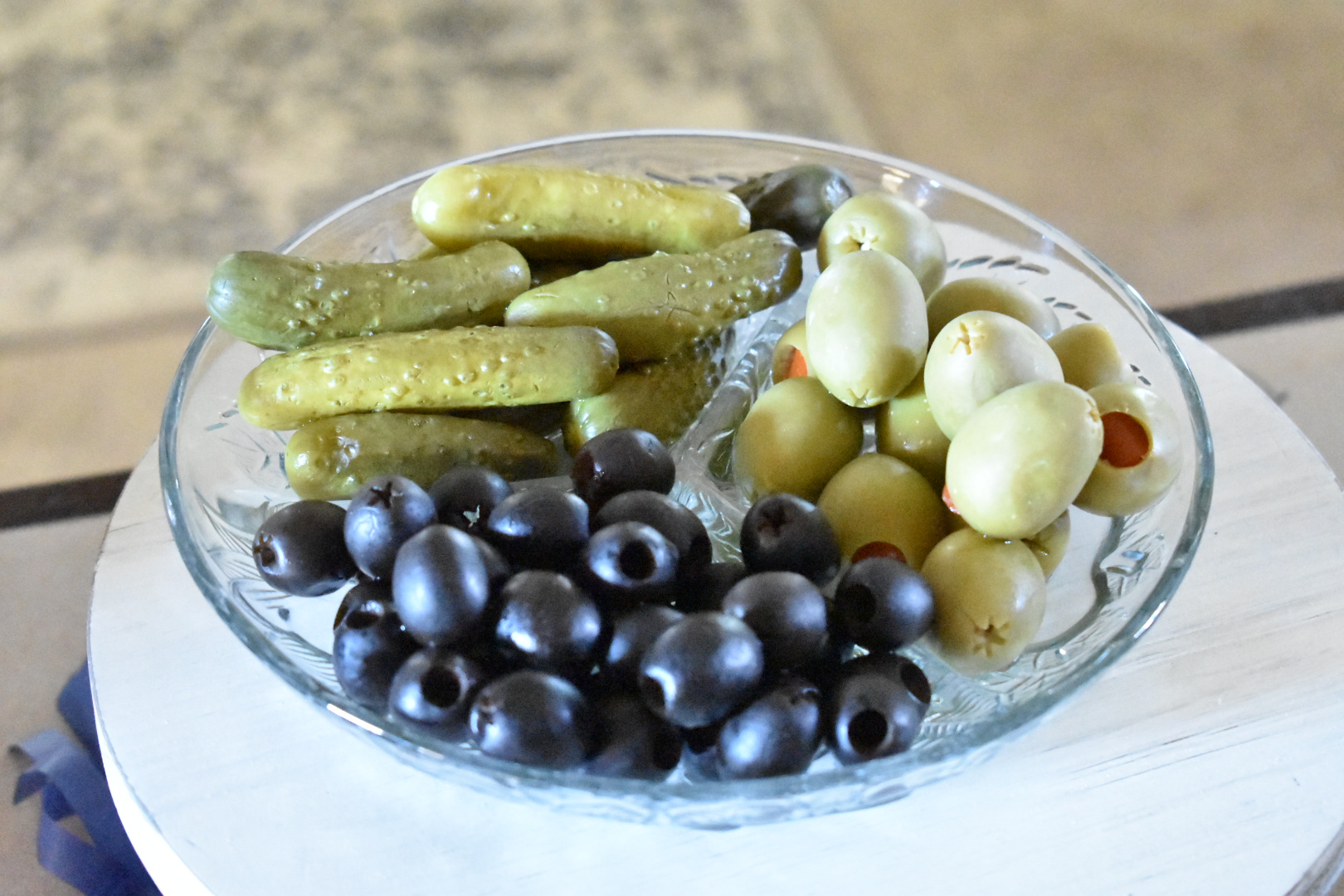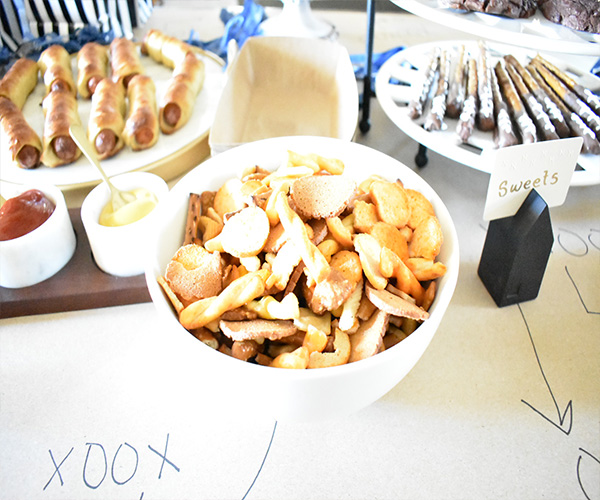 I used some really cute bags I found that reminded me of officials jerseys and filled them with popcorn.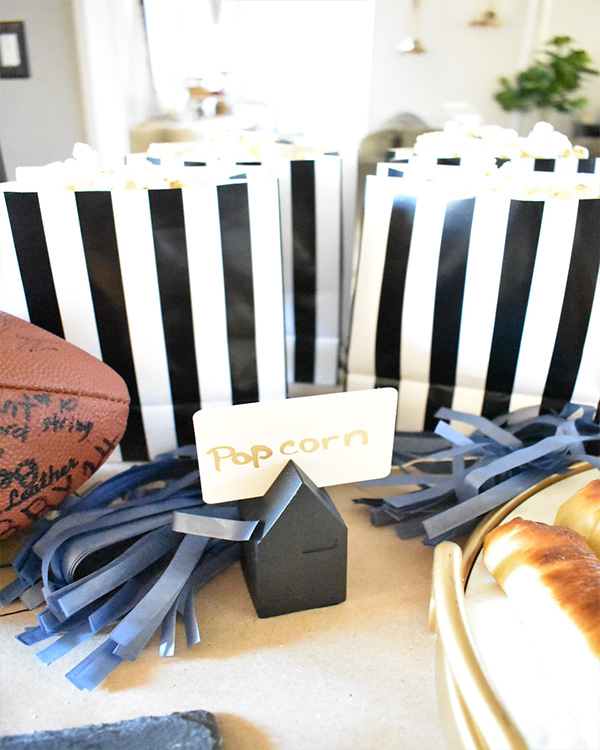 To add a few more game day snacks, I had to make sure we had some yummy drinks. I took a huge Galvanized Bucket from Cost Plus World Market and filled it with Local Beers, San Pellegrino and Root Beer for the kiddos.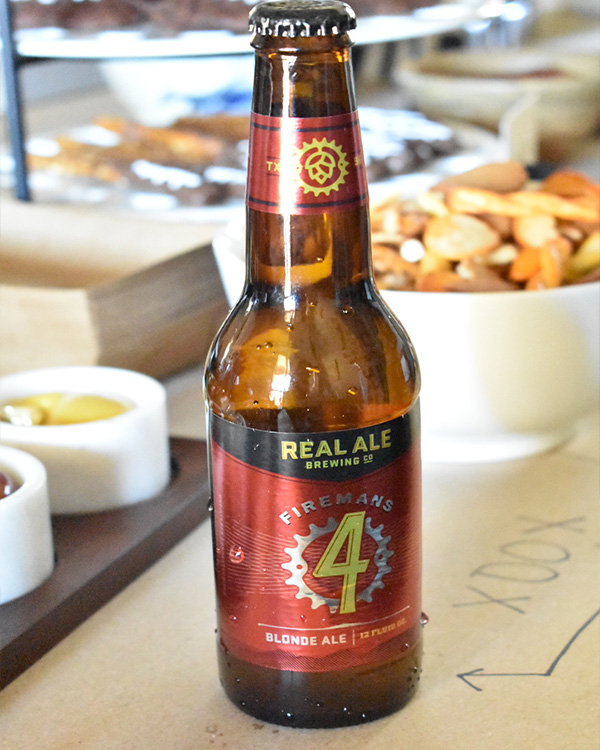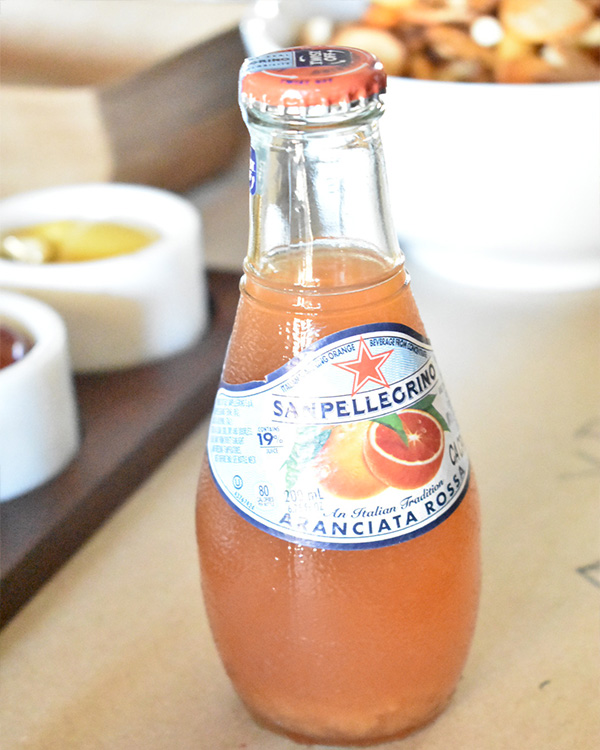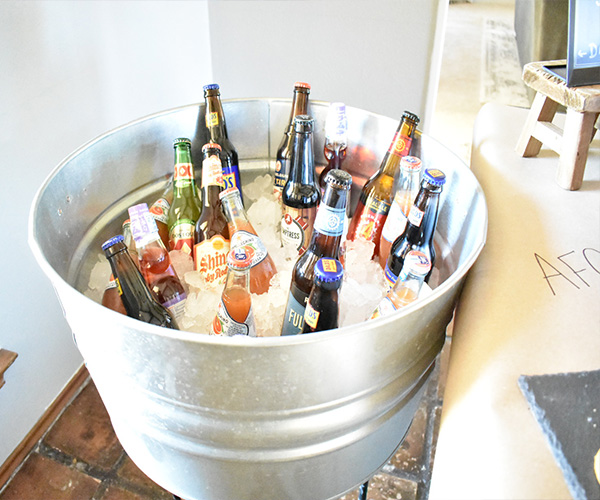 To decorate the table, I used Kraft paper and simply drew x's and o's just to make it festive. It was a very inexpensive way to add some fun to the table. I used some blue pom-poms and laid them out across the table. I also used a football from years ago that my husband's football team signed and gave him. He loved that I added some memorabilia of his.
I had so much fun working with Cost Plus World Market to create easy entertaining! They have everything you need all under one roof. If you are in the Plano area you should definitely visit the Cost Plus World Market at:
Make sure you head over there when planning your next event. CHEERS!
SHOP THIS POST!
Marble and Gold Tray | Slate Cheese Board | Charcuterie Sampler | Pizza Cutter | Gold and Marble Handled Tray | Marble and Wood Tray | Salsa | UTZ Pub Mix | Chips | Galvanized Bucket | Local Beer | San Pellegrino | Dad's Root Beer